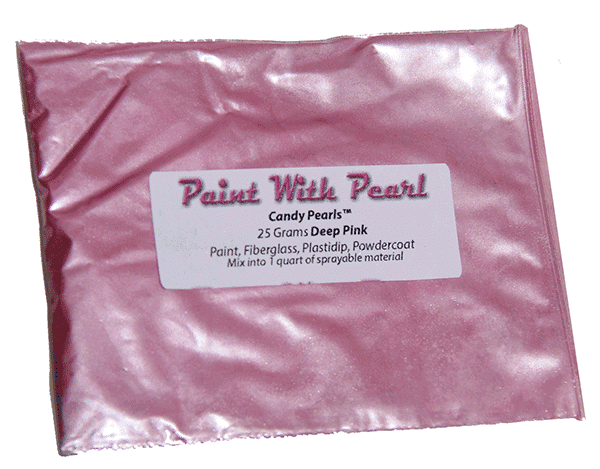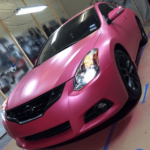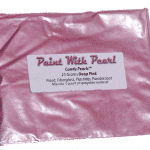 Deep Pink Kandy Pearl Metallic Pigment Powder
$9.75 – $58.54
25 Grams of Deep Pink Kandy Pearl. Works in all Paint, Powder Coat, Gelcoat, Nail Polish, Concrete Sealers Shoe paint, Everything.
Description
Additional information
Reviews (0)
Description
Deep Pink Kandy Pearl – Custom Paint
These pigments work with any base clear, blender or binder for a fantastic paint job!  Try this in epoxies, resins, polishes, sealers or other coatings for a great custom effect.
Treats 1 Quart of sprayable (32 oz) clear base or binder.
Check that you have the correct ratio of pigment to clear base and ALWAYS spray a test panel first!
This 25 gram bag of Deep Pink Kandy Pearl Pigment powder is a great pigment. Creating your very own tinted clears and opaque metallic in custom auto or home paint or powder-coating applications is easy. This is guaranteed to mix well with any clear paints or tinted candy paints.  It has a temperature threshold of about 400 degrees fahrenheit. Pigment is a very fine powder and will spray well through airbrushes, powder guns, and HVLP paint guns. It is very light, so it stays well mixed in paint without settling too fast in your gun, and can make great tinted clears for light to heavy effects (it's your choice). One 25 gram bag of Deep Pink Kandy Pearl treats from 1 to 2 quarts of clear.
At Paint With Pearl, we pride ourselves on the quality of our candy pigments. These are quality metallic Iron Mica colored pigments that have a good deal of their own iridescence built right in. The mixture, however, of our candy custom paint pigments will never be truly transparent, due to the fact that they are solid particles of mica and iron. This does not mean that you can't achieve a good degree of transparency from the candy paint pigments, it's just that you will achieve total coverage after several coats, being unable to see whatever is underneath.
Using Our Product
We suggest using about 1/2 of one of our bags per quart of base clear or inter-coat clear. When you use 1 bag per quart, you are making metallic paint. If you are still confused over which products would look good over your existing paint, or want to discuss your options, contact us or visit our FAQs page for more information.
Use Our Candies in Multiple Mediums
Our Kandy Pearls, Metal Flakes, True Chameleon pigments, Thermochromics, Glow In The Darks are truly custom paints and can be used in almost any application. You can use our pearls in any kind of clear mediums (epoxy, fiberglass, nail polish, etc.), including Elmer's Glue and Liquid Wraps. All of our Kandy Pearl pigments are completely compatible with dip or other coatings as well.  Finally, you should know that we were the people who introduced Plasti Dip Pearls to the world.
Brag About Yourself…
We at Paint With Pearl appreciate all of our customers who take the time to send us pictures.    There are so many options with our products! Most notably, your Photos, Videos and testimonials are a great way to show off the capabilities of our additives. When you find the opportunity, send us some great pics and a small testimonial about what you did with our products. We will send you a gift card for 50 dollars on our website if your photos are usable. Also, we love to show off the work that our wonderful customers are doing. Contact us and send us your work!
Also, don't forget to shop with us…the leader in paint and Pearl Pigments Since 2005
Check out our products on Amazon Prime! We are also accepting payment through Amazon Pay and Apple Pay!
Additional information
| | |
| --- | --- |
| Weight | 2 oz |
| Dimensions | 4 × 2 × 0.2 in |
| Bulk Options | 25 Gram Bag, (10) 25 Gram Bags |
---
Only logged in customers who have purchased this product may leave a review.