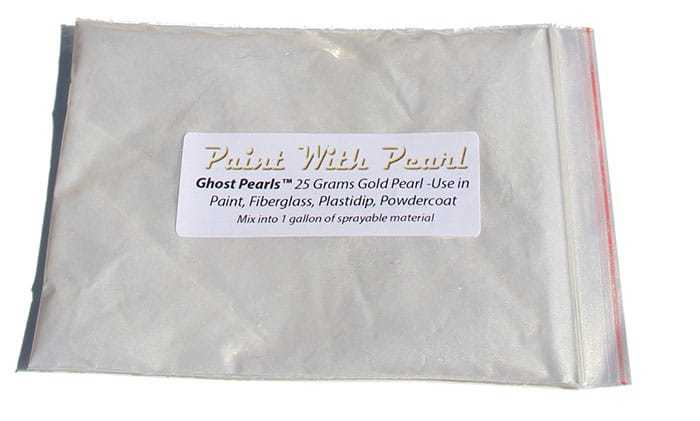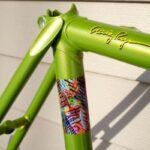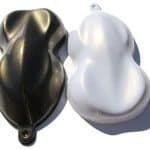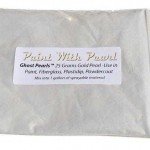 Gold Pearl Paint – Gold Spectre Pearl
25 Gram Bag(s) of Gold Spectre Pearls. 1600ºF Temp Threshold, and good in any Medium of Paint, Powder Coat, Leather Paint, Cosmetics.
Description
Additional information
Description
Gold Spectre Pearls Paint Pigment
These pigments work with any base clear, blender or binder for a fantastic paint job!
This 25 gram bag of Gold Spectre Pearls paint powder is a great special effects pigment for adding to clear in paint or powder-coating applications. It is guaranteed to mix well with any clear paints or tinted candy paints, and has a temperature threshold of about 1600 degrees fahrenheit. It is a very fine powder and will spray well through airbrushes, powder guns, and HVLP paint guns. It is very light, so it stays well mixed in paint without settling too fast in your gun, and can make great tinted clears for light to heavy effects (it's your choice). One 25 gram bag Gold Spectre Pearls paint powder treats from 2 to 4 quarts of clear. Gold Spectre pearls paint powder has more sparkle than normal pearl, so it really stands out in the bright light!
White base coat: Use any of the spectre pearls, but keep in mind that the red spectre pearl will give you a iridescent pink look in the sun. Blue, violet, orange, gold and silver are the most popular colors for white base coats.
Black base coat: You also may use any of the spectre pearls, but keep in mind that using too much will make the project take on the color of the pearl and overwhelm the black. To get a cool midnight color change effect, keep the ratio of pearl down to about a teaspoon per quart in the clear base or binder. In powder coating, keep the ratio down to a tablespoon per pound and add onto that as needed.
Red, Burgundy, or Orange base coat: We highly recommend any of our Gold spectre pearl paint powders, including the shimmer gold or the satin gold. Also, Blue pearl red pearl, and violet pearls can make for great effects over the darker shades of red. 
Blue base coats: For very light blues (like cornflower blue), we have seen excellent results using gold spectre pearl, but for a cool color shift on any shades of blue, a violet spectre pearl will give you a cool purple color shift in the sun. Silver spectre pearl paint can also give a nice subtle effect to the darker blues. Green can give an awesome pearl effect over most blue bases as well. 
Yellow base coat: We highly recommend that you try using green spectre pearl for the lemony yellows, and gold spectre pearl for the darker racing yellows. Gold Pearl Paint has been seen on newer Lamborghini's over yellow as well.
Green base coat: Gold spectre pearl looks great on green base coats. We have also seen good results with orange and red spectre pearls.
Pink base coat: Believe it or not, you will find that silver spectre pearl looks awesome over pink, as does the red spectre pearl.
Purple base coat: Try our Red Spectre Pearl, Green Spectre Pearl, or Silver Spectre pearl. 
If you are still confused over which products would look good over your existing paint, or want to discuss your options, contact us.
Not only are all of our spectre pearls completely compatible with plasti dip, we were the first to supply the dip companies with pigments.  If you have any reservations about whether our products work in Plasti Dip, you should know that we were the pioneers who introduced Plasti Dip Pearls to the world.
We at Kandypearls appreciate all of our customers who take the time to send us pictures and feedback on all of our products. Our Kandy Pearls, Metal Flakes, True Kameleon pigments, Thermochromics, Glow In The Darks and all other paint pigments are truly custom paints and can be used in almost any application. There are so many options with our products! Photos, Videos and testimonials are a great way to show off the capabilities of our additives. If you find the opportunity, send us some great pics and a small testimonial about what you did with our products and we will send you a gift card for the website. We love to show off the work that our  customers are doing. Contact us and send us your work!
Shop with us…the leader in paint and Pearl Pigments Since 2005
Gold Pearl Paint – Gold Spectre Pearls
Of all of our Spectre Pearls, our Gold Spectre Pearls Paint Powder is one of the flashiest powders you can add over many colors for brilliant effects.
Manufactured by:
Kandypearls
Additional information
| | |
| --- | --- |
| Weight | 2 oz |
| Dimensions | 4 × 2 × .2 in |
| Bulk Options | 25 Gram Bag, (10) 25 Gram Bags |